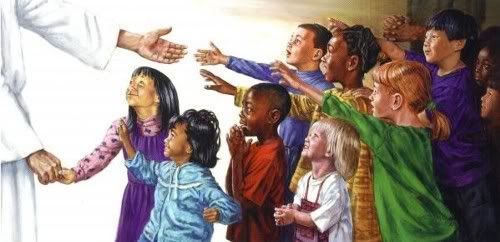 And he said: "I tell you the truth, unless you change and become like little children, you will never enter the kingdom of heaven. Matthew 18:3 NIV
The movie over as we make our way to exit into the mall. Her little heart is full and overflowing with praise. We had just seen "The Prince of Egypt". That was back in 1998; still the memories are fresh today. With her little hand in mine we walk along the corridors of the mall but those little hands just had to be free. As she broke loose from my grip both small hands went up in the air as she began to praise and worship God. "Thank you Jesus for Moses and for the movie. Thank you for keeping him safe in that basket. I love you Jesus." No she didn't care if people were looking at us, she paid no mind to this Mamaw (grandmother), she was lost in her task of praise.
Oh to be totally lost in our praise! So lost that we do not hear the naysayers of life as we praise our Lord. Completely absorbed in our love for Him, our eyes are on the prize without counting the cost. Do you ever simply long to be in His presence with no distractions? Do you simply find that you do not want to leave the sweetness of His presences? Still the maturity of life, the responsibilities of life keep calling to us as we must get on with our day.
Today with child-like faith, I am going to lift my hands high. Naysayers will just have to excuse me for the day.
"Thank you Jesus for the ones of faith that have gone before us. Thank you for keeping me safe in my basket (pit) but thank you even more that even as Moses was not left in the basket, you did not leave me in that pit. Thank you for deliverance for the Israelites and for me. I love you so much, Jesus…."
I have shared this on
Word-filled Wednesday
and now would like to share it with
Spiritual Sundays
. Please join with others as we offer encouraging words and praise to our Lord...